The principal entity for environment-related and water treatment products is NIPPON FILCON CO., LTD.'s subsidiary, AQUA PRODUCT CORPORATION.
AQUA PRODUCT CORPORATION, which was integrated with NIPPON FILCON CO., LTD.'s environment-related and water treatment business in December 2012, engages in businesses that contribute to the creation of a healthy, safe, and secure society. Our core businesses comprise the Aqua Division, which offers swimming pools, filtering systems, and other products, and the Product Division, which provides special concrete materials and insulating joints.
Aqua Division (Swimming Pools, Environment-Related and Water Treatment Equipment)
For many years, AQUA PRODUCT CORPORATION has been a full-line swimming pool manufacturer that provides high-quality and safe swimming pools for elementary and junior high schools and other public entities as well as for fitness clubs, hotels, and other private businesses.
Demand for up-grading swimming pools has been increasing, and the company is currently developing and introducing multifunctional pool facilities designed to promote health in an era of longer life spans, with for instance, indoor pools, pools for under-water walking, and rehabilitation pools.
Business integration has made it possible to offer comprehensive proposals for swimming pool facilities that include filter systems. Currently, we aim to increase sales and expand the business through deep market penetration of the AQUA PRODUCT brand as a full-line manufacturer of swimming pools and water treatment systems.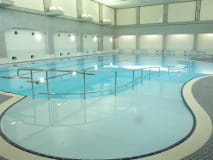 Indoor swimming pool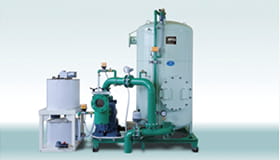 Swimming pool filter system
Product Division (Marine Engineering, Engineering Products)
In the marine engineering business, AQUA PRODUCT CORPORATION provides Gcon, a highly specific gravity concrete that offers high quality, excellent durability, and superior workability. Gcon has a track record of more than twenty years of use in wave-dissipating concrete blocks, mainly in fishing port breakwaters, an application that contributes to fishing boat safety. Since the Great East Japan Earthquake, Gcon has been widely used as radiation shielding concrete, an application that takes advantage of the excellent radiation shielding performance that results from its high iron content.
In the engineering products business, we import and sell insulating joints that prevent corrosion and gas leaks on natural gas pipelines. We have amassed a solid track record during more than 30 years of experience as the sole distributor in Japan for European manufacturers with world-class technological competitiveness.


Gcon used in a breakwater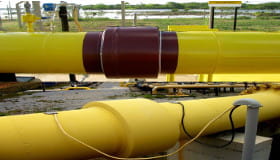 Insulating joints