The principal entity for electronic components and photomasks is NIPPON FILCON CO., LTD.'s Fine Electronics Company. The Fine Electronics Company provides photo-etching products, photomasks, and a solar power generation system.
The Fine Electronics Company provides high-precision parts to customers in the electronics, automotive, office equipment, medical equipment and other fields by means of an integrated production system encompassing every stage from making a prototype to post-processing. The system is based on original photo fabrication technologies and precision metal processing technologies developed by NIPPON FILCON. We have established a solid position in the composite film-etching and metal-etching sectors.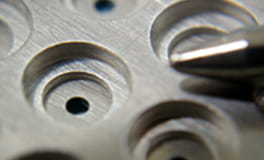 The Etching Department of the Micro Products Division, the forerunner of the Fine Electronics Company, was established in 1973. The department introduced an etching technology that enabled micron-level processing of ultra-thin metal materials and further developed it as a processing technology for composite materials.
The company has applied this technology to the research and development of touch panel sensor film, which has made possible mass-production processing.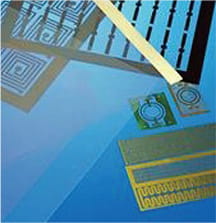 Photo-etching products