The industrial filters and conveyor belt business sector consists of Paper Machine Clothing (PMC)・EF In-House Company, AdSep Business Promotion Department of NIPPON FILCON CO., LTD. and a subsidiary of NIPPON FILCON CO., LTD. called Kansai Wire Netting Co., Ltd.

The AdSep Business Promotion Department engages in activities to commercialize high-performance adsorbents that NIPPON FILCON has been researching and developing since 2008 with the aim of creating comfortable and enriching living environments, and to establish businesses for these products. AdSep® is the name for a technology that fuses adsorption and separation, and the department is currently focusing on two highly promising market sectors: metal adsorption and odor adsorption.
Metal Adsorption
NIPPON FILCON proposes systems for the recovery of precious metals and rare metals and the removal of heavy metals using META-CAT®, the core product in this business and a filter for efficiently adsorbing, recovering, and removing metals dissolved in liquids.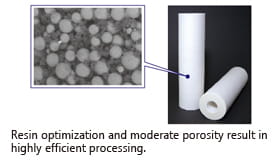 Odor Adsorption
NIPPON FILCON provides fibers and nonwoven fabrics that offer excellent performance in blocking ammonia and acetic acid, causes of unpleasant odors in our day-to-day lives. Currently, masks, insoles, and other deodorizing hygiene products made using these fibers and fabrics as raw materials are available on the market.